Simone James's 1970 Dodge Challenger. Given to her by her parents on her 16th bday, this car is her baby. Metallic purple with a black canvas top, its old school with a dash of Simi herself tossed in. Fuck with it and she will literally fuck you up!!
Performance Data
Edit
Base Engine Size: 6.1L
Base Engine Type: V8
Transmission(s): 5-Speed manual
Horsepower: 425bhp
Max Horsepower: 6,200 rpm
Torque: 420ft-lbs.
Max Torque: 4,800rpm
Drive Type: RWD
Maximum speed: 174mph
0-60mph: 4.5s.
1/4 mile: 13.0s @ 126mph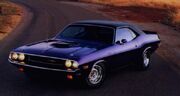 Ad blocker interference detected!
Wikia is a free-to-use site that makes money from advertising. We have a modified experience for viewers using ad blockers

Wikia is not accessible if you've made further modifications. Remove the custom ad blocker rule(s) and the page will load as expected.