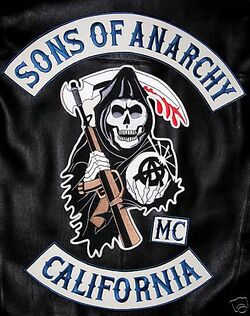 SAMCRO are the original Sons of Anarchy branch and are located in Charming, California. They were previously led by President and member of the First 9 Clay Morrow but after his death, Jackson 'Jax' Teller was elected in his stead. Their V.P is currently Filip 'Chibs' Telford.
Jackson 'Jax' Teller - President
Filip 'Chibs' Telford - Vice President
Mitch Cefalu - Patch
Casey Atwood - Prospect
Alex 'Tig' Trager - Nomad
Previous Members
Edit
Opie Winston - SAMREN President
Clay Morrow - (Deceased); President; First 9
Half-Sack - (Deceased); Prospect; Full-Patch
Juice Ortiz - Full-Patch; Tech Expert; SAMREN
Happy Lowman - Enforcer; Sergeant-At-Arms; SAMREN;
Ad blocker interference detected!
Wikia is a free-to-use site that makes money from advertising. We have a modified experience for viewers using ad blockers

Wikia is not accessible if you've made further modifications. Remove the custom ad blocker rule(s) and the page will load as expected.